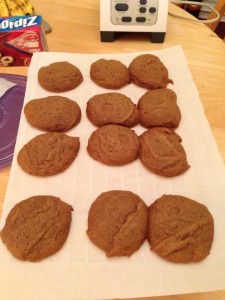 This is a very unique recipe given to me by my mother. I started baking these while in high school. Then I didn't appreciate the need to cream the sugar and shortening together. I actually melted the shortening into the hot coffee! For years I also used instant coffee because I wasn't a coffee drinker. Now through the magic of a Keurig coffee brewer, I can make just the right amount needed for this recipe.
Ingredients:
1 cup shortening
1 cup sugar
1 cup molasses
1 tsp nutmeg
1 tsp ginger
1 tsp cinnamon
1 tsp salt
1/2 tsp cloves
2 eggs
2 tsps baking soda mixed in 1 cup (8 ounces) hot coffee
5 cups flour
Cream shortening and sugar together until fluffy. Add molasses, mix until smooth. Add spices, mix until smooth. Beat in eggs. Add coffee/baking soda mix until smooth. Mix in flour one cup at a time. Drop about tablespoon size of dough onto cookie sheets. Makes about 4-5 dozen. Bake at 350 degree F for 10-12 minutes.
TIP: Use parchment paper. It makes clean up soooo much easier.
I tend to undercook these ever so slightly, makes them very yummy.