This past weekend I drove over to Atlanta to meet up with Connie Porcher of Celebrate365 and her sister Benita of Willow Springs … a Family Farm at the AmericasMart Atlanta. Connie and I had talked about me accompanying her on other trips to "Market" in the past but I never seemed to have the time. As the time got closer, it appeared I would have the time. Losing my job helped push me towards going. The generosity of friends cemented the deal.
What did the Gift Mart have to offer me? Connie had told me that Social Media had become a hot topic at previous Markets. She thought it might be a good place to try and drum up some business within a group of people and products that I understood – ornaments, holiday collectibles, glitter, with my roots back to Holiday Treasures. I would be able to connect with Designers, Manufacturers and Buyers. With buyers being the store owners.
I also had the opportunity to listen to Erik Qualman, author of Socialnomics: How Social Media Transforms the Way We Live and Do Business. It was a good reinforcement to what I already knew and was putting into practice.
As I followed Connie around while she worked – see  A Day With Connie – we also talked about her successes with Facebook, Twitter and her WordPress blog with the people she was gathering information from for her publication Celebrate365. Most of the people we talked with knew about and used Facebook, while many didn't understand Twitter. That gave to the opportunity to explain it's micro-blogging abilities.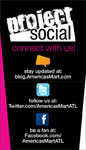 My only disappointment at AmericasMart Atlanta was the lack of wifi availiblity. I had wanted to be able to show people what we were talking about, so I toted both my laptop and my iPod Touch. I figured an event that touted "Project Social" would have wanted to make sure that all means of access were available. I was able to tweet and post to Facebook via text message but the true interaction was lost because I didn't have a "smart phone" with a data plan (not really a smart thing to have when you don't have a job). I did try hunting for the wifi signal, but if it wasn't where I was trying to explain the benefits of Facebook and Twitter it wasn't worth the snipe hunt.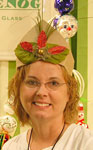 It was a fun time catching up with old friends and even other users of Miva Merchant. How could I not have a good time, wearing a hat like this? It was a great promotional giveaway for a new company – Glory B Hats.